One of the latest National Survey's confirm that there are over 602,000 registered sex offenders in the United States
Does a Sexual Offender live in your community?

| | |
| --- | --- |
| | There are over two thousand missing children reported every day. |
| | The chances that your child will become a victim of a sexual predator is 1 in 3 |
| | Protect your family, kids, and friends by identifying sexual offenders before they strike. |
SAMPLE REPORT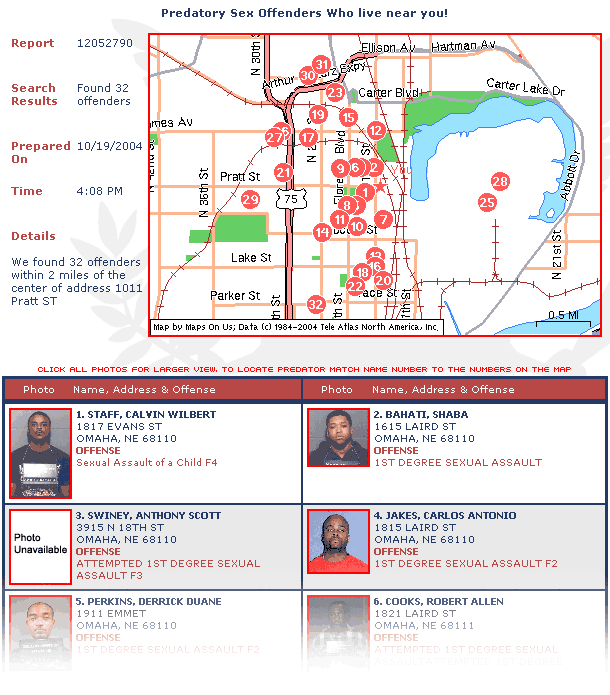 How would I find a sexual predator in my neighborhood or city?
The National Alert Registry has a nationwide database of nearly 500,000 registered sex offenders records that can be searched instantly. Search results contain very detailed information about offender or offenders in your area: names, aliases, color photos, home addresses, and the sex offense details. The National Alert Registry's new state of the art mapping system provides a very detailed, high resolution map of all registered sex offenders in the area of your search.

How do I discover if a new sex predator moves into my area?
With National Alert Registry, you don't need to scour the Internet or visit your local police station to get this information. From the privacy of your home, you will receive RED ALERT notifications delivered directly to your email address each time our database is updated with new information that affects your area.

What is a RED ALERT notification from NAR?
Though sex offender registration information is often available if you take the initiative and hunt it down yourself, National Alert Registry removes this burden and gives you peace of mind by instantly by notifying you via email when our database has been updated with new sex offenders. Your customized Red Alert notifications will keep you "in the know" and armed with the information you need to protect yourself and your family from dangerous sexual predators in your town!



Law Background

The United States Congress passed 3 laws that require States to keep track of sexual offenders; The Wetterling Registration Act, The Lynchner Tracking and Identification Act and Megan's Law. On March 5th, 2003, The Supreme Court ruled that information about potential sexual predators may be posted on the Internet.


The Problem Is

The information is available and you have the right to it. But, the problem is that access to this information is very difficult to find. Most of the time you have to know the name of the person you are looking for and in many of the States you must go to your police station and complete a request form. In some States there is a fee and limit to view only 2 of the names


The Solution - A Sexual Predator Report

Now in the privacy of your own home you can view the same information displayed on a map of your neighborhood. The free service provides the number of sexual predators in your community. You can then choose to purchase the full service, which includes details about those registered sexual offenders, including specific addresses. The full service search is based on your exact address.